6 Reasons Why You Should Choose National Laser Institute For Your Laser Training
Have you been thinking about becoming a cosmetic laser technician? Are you researching your best options for your laser training? We invite you to consider the National Laser Institute for your laser training. Continue reading and we'll show you what makes us unique.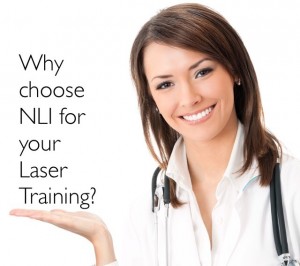 1)You will have flexibility in the courses you take because you can choose from the most comprehensive spectrum of courses ranging from 1 week to 2 weeks.  
You can become trained as a laser technician regardless of your previous career or education level. Within two weeks of training or less, you can start your new career with confidence and have the skills needed to safely and effectively provide high-quality laser services for your clients.
Your laser training course options include Laser & Intense Pulse Light Classroom/ Didactic, Laser Hair Removal Course, Comprehensive 2 Week Course, Core 1 Week Course, and Just Tattoo Removal.
2)You will practice in small classes and work with real clients for your clinical training.
During the clinical segment of our laser training, you will gain hands-on experience while working in small groups with real clients.  Our small class sizes coupled with our hands-on training with real clients is rated second to none.  This training environment is unique because we employ a full-time team of 15 phone operators who are calling and booking clients for our students to train on.
3)You will train in the largest state of the art facilities in the country.
With locations in Scottsdale, Arizona and Dallas, Texas, we have the largest med spas and training environments in the country.  
National Laser Institute was the first in the industry to offer hands-on training in a luxury, retail, med spa situated on campus grounds.  You will acquire working knowledge combined with live clinical instruction and hands-on practice in our state-of-the-art, luxury retail med spa with access to the most advanced equipment, lasers, and products in the world.   
We also offer training in Beverly Hills, Boston, Chicago, Hawaii, Las Vegas, Nashville, New York, and Philadelphia.
4)You will gain real-world knowledge from a diverse group of aesthetic industry experts
During your training you will have 10 to 15 different expert instructors with 5-20 years of experience in the field.  This unparalleled pool of real-world knowledge will provide you with an exceptional learning experience and the opportunity to learn from the best in the aesthetics industry.
We are honored to work together with a diverse group of aesthetic industry leaders who teach at National Laser Institute. You will learn from our instructors who are also successful plastic surgeons, dermatologists, aesthetic nurses, cosmetic laser specialists, skincare consultants, and marketing veterans.
5) You will receive laser spa marketing coaching by Louis Silberman, President of National Laser Institute.
Louis has been featured in Entrepreneur, Fortune Small Business, Les Nouvelle, Dermascope, and Skin Inc. and is one of the leading medical aesthetic marketing luminaries in the country.  Louis was also a semi-finalist for the Ernst and Young Entrepreneur of the Year Award 2014.  Prior award recipients include the founders of Google, Starbucks, Southwest Airlines, Dell and Amazon.  This invaluable marketing coaching can be used as a tool to either make yourself more valuable to your employer if working for someone or if you are looking at starting your own business.  
6) You will receive your training from a school with over a decade of experience while receiving the best and highest quality laser training available.
National Laser Institute is a pioneer of world-class comprehensive instruction for laser and medical aesthetics. We were the first to combine classroom instruction with one-on-one observation and hands-on laser training.  We are approved by the Post Secondary Educational Board and we also accredit physicians, nurses, and other health professionals with continuing medical education credits.
To be the best in the medical aesthetics industry, you need to train with the best in the medical aesthetics industry.  We invite you to choose National Laser Institute for your laser training.  
Call 800-982-6817 to speak with a career advisor or simply fill out the form on your right.