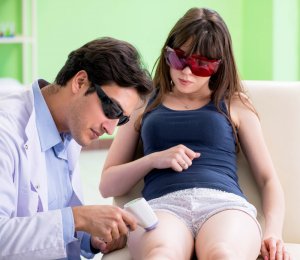 Letting your fingertips skitter over the keyboard, you typed in a phrase that visits your thoughts often as of late: "Aesthetic laser training."
Truth be told, your growing curiosity makes perfect sense. Without a doubt, the mushrooming growth and rising popularity of medical aesthetics has drawn the attention of many people in search of a fulfilling, lucrative career.
Perhaps this is your first search on the subject matter. Or maybe it isn't. Maybe you've tossed around the idea of pursuing aesthetic laser training before.
Whatever the answer may be, today is the day to expand your search. Right here, right now, you can answer your questions and stop oscillating over indecision.
Not only are you interested in laser training, but you also found a great resource to learn more about it.
Lean back and open your mind because it's officially time to dive into the facts about aesthetic laser training.
So, what does aesthetic laser training involve?
First off, thanks for starting with an easy question! Whew!
Simply put, aesthetic laser training provides instruction and in-depth knowledge on advanced cosmetic lasers, how they work, how to operate them, and how to use them to treat different skin types and conditions.
Students enrolled in aesthetic laser training can expect to learn how to perform treatments including laser and light-based modalities, IPL photofacial skin rejuvenation, acne reduction, laser tattoo removal, laser spider vein reduction, fat reduction, cellulite reduction, micro current, lamprobe, dermal infusion/vibration non-crystal advanced Microderm, and radiofrequency skin tightening among other things.
Additionally, program enrollees will learn about laser limitations, safety, and best practices when using laser technology.
Generally speaking, students in a good program (like this one) should learn the whole shebang about lasers and the treatments administered while using them.
Where can I get aesthetic laser training?
You're on a roll! Hence yet another fantastic question. There are several schools that offer aesthetic laser training across the country. An industry leader, National Laser Institute offers such training in a comprehensive course that lasts only two weeks. In two weeks' time you can turn heel on your current career path and become a laser technician!
Who can become a laser technician?
Absolutely anyone who is over the age of 18 with a high school diploma (or equivalent) may train to become a laser technician. The opportunity to enter the field without preexisting experience is truly one of the beautiful perks of this beautiful job! Mothers, fathers, teachers, bulldozer drivers, librarians, nurses, kindergarten teachers, and lunch ladies are all equally qualified to enroll. Happily, the growing field is diverse and welcoming to all walks of life!
Where do laser technicians work?
Go ahead and take your pick of a work locale. Laser technicians can be found in dermatology offices, dental offices, OB/GYN clinics, niche boutiques, fitness centers, medical and day spas, and in so many more places.
What are the benefits of the industry? C'mon, sweeten the deal and tell me what's in it for me!
The perks are endless. First and foremost, as a laser technician you spend relatively stress-free days working to make people happy. Your clients will leave happier and more confident as the result of your treatments.
Furthermore, with the field of medial aesthetics expanding, so are jobs for laser technicians. A quick internet search reveals the countless positions (many of which include full benefits packages and paid time off) available. Also consider the pay, according to Salary.com cosmetic laser technicians working in the U.S. make an average of $50,905 annually.
Where can I sign up?
A great first step is to contact National Laser Institute at 480-290-7399! NLI's friendly, helpful staff will gladly answer questions and help you enroll.
During our Hybrid* Online Comprehensive Laser Course you will receive online classroom laser training with a variety of instructors and live demonstrations with several hours on each modality. Then choose one of our nationwide locations to attend your clinicals for hands-on learning!
Modalities include Laser Hair Removal, Photofacial, Laser Skin Rejuvenation, Radiofrequency Skin Rejuvenation, Coolsculpting, Cellulite Reduction, Tattoo Removal, Radiofrequency Skin Tightening, and Microneedling.