How Have Cosmetic Lasers Changed?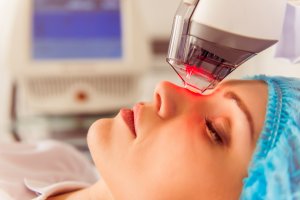 The medical aesthetics industry is an industry that is constantly changing and evolving. That is one of the reasons it is such a fun industry to get into! When you take a cosmetic laser course with us here at the National Laser Institute you may wonder how have cosmetic lasers changed and if they will continue to change. We will cover all of the latest treatments that are in demand in the world of cosmetic lasers.
So how have cosmetic lasers changed?
As new technologies come into being and new treatments pop up, the world of cosmetic lasers is continuing to grow. When you take a course with us here at the National Laser Institute you'll be able to understand all the technology behind these treatments and you'll feel confident using these powerful lasers on clients. During the program, you'll see how have cosmetic lasers changed and you'll learn how to administer the following treatments:
Laser hair removal

Intense Pulsed Light (IPL) photofacial

Laser spider vein reduction

Laser acne treatments

CoolSculpting body contouring

Laser skin tightening

Cellulite reduction

Laser wrinkle reduction

Radiofrequency (RF) skin tightening

Laser tattoo removal
With these treatments, you will be able to treat clients for issues such as dark spots, wrinkles, acne, scars, cellulite, and many, many other skin issues. As new treatments come up in the market of medical aesthetics, you will be able to continue to grow your knowledge-based and expand your skills in this booming industry!
Is being a laser technician for you?
Do you enjoy all things beauty? How about getting to know people? Do you love variety and learning new things? If this all sounds like you, then you will probably love a career as a laser technician! You'll be surrounded by beauty constantly. You'll be helping people improve their skin and on a deeper level their own confidence. If you love to work with people and get to know others then this is the perfect field for you. To truly thrive in this industry you need to build up a base of clients that you have a connection with who will continue to come back to you again and again. Lastly, if you love learning new things and every day being a little different than the one before then this career path is perfect for you!
Who can become a laser technician?
Anyone! Seriously, as long as you are eighteen and you have graduated college or have a GED you are eligible to take our cosmetic laser technician course. The most important thing to consider when embarking on any new career path is to make sure that you have the dedication and passion to truly succeed on your new chosen path. Only this way can you build the dream career that you want.
After our program you'll be able to:
Recognize the unique characteristics of a cosmetic client

Understand the fundamentals of how a laser interacts with skin tissue

Explain how different types of light-based devices interact with the skin in nonsurgical procedures

Identify safety issues and complications as well as recognize contraindications for various cosmetic laser treatments

Determine which types of laser treatments will create the desired results for your clients

Understand the hazards associated with cosmetic lasers and how to avoid them

Demonstrate proper technique and safe operation of laser and pulsed light devices
Now that you know how have cosmetic lasers changed, you're ready to get started on your new path then give us a call! It is never too late to start living the life you dream of!
During our Hybrid* Online Comprehensive Laser Course you will receive online classroom laser training with a variety of instructors and live demonstrations with several hours on each modality. Then choose one of our nationwide locations to attend your clinicals for hands-on learning!
Modalities include Laser Hair Removal, Photofacial, Laser Skin Rejuvenation, Radiofrequency Skin Rejuvenation, Coolsculpting, Cellulite Reduction, Tattoo Removal, Radiofrequency Skin Tightening, and Microneedling.
If you're ready to get started in the medical aesthetic industry then give us a call at 855-637-4530 to talk with one of our admission representatives. They'll answer all your questions and guide you through the whole process.