Radio Frequency Skin Tightening Training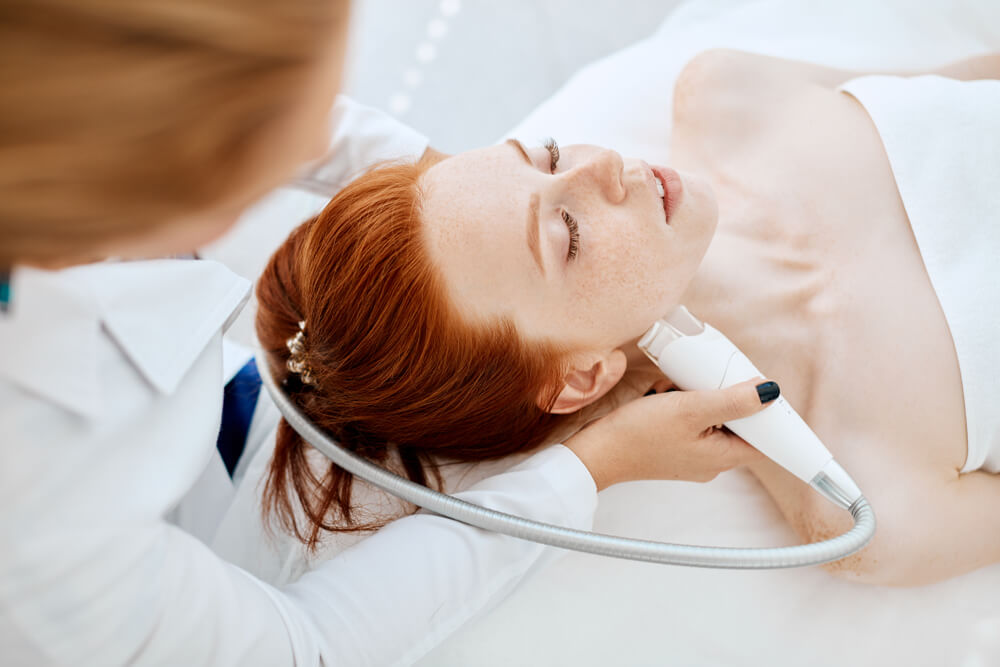 In the world of medical aesthetics, there is always something new popping up! This is an industry full of new treatments and new technology that is continuing to evolve. Are you looking to get started in this industry as a laser technician? Have you been curious about training such as radio frequency skin tightening training? If so, at the National Laser Institute we have the perfect course for you! Make your dream of becoming a laser technician a reality!
The National Laser Institute Comprehensive Laser Technician Program
Here at the National Laser Institute of Technology, we offer a cosmetic laser technician course where you'll learn all the latest end demand treatments. Treatments such as radio frequency skin tightening training. When you go out into the world as a laser technician you'll be confident in performing a variety of treatments. 
You'll learn to perform treatments such as:
Laser hair removal

Intense Pulsed Light (IPL) photofacial

Laser spider vein reduction

Laser acne treatments

Cellulite reduction

Laser wrinkle reduction

Radiofrequency (RF) skin tightening

Laser skin tightening

CoolSculpting body contouring

Laser tattoo removal
At the end of the program you'll be able to:
Recognize the unique characteristics of a cosmetic client

Understand the fundamentals of how a laser interacts with skin tissue

Explain how different types of light-based devices interact with the skin in nonsurgical procedures

Identify safety issues and complications as well as recognize contraindications for various cosmetic laser treatments

Determine which types of laser treatments will create the desired results for your clients

Understand the hazards associated with cosmetic lasers and how to avoid them

Demonstrate proper technique and safe operation of laser and pulsed light devices

Explain the benefits, expectations, and results associated with several laser devices
What makes the National Laser Institute Program so unique?
Here at the National Laser Institute we really dedicate ourselves to our students. We are here with you from day one. We walk you through the process of admissions all the way through post-graduation life! Here are a few things that make our program stand out:
Classes lead by dermatologists, cosmetic surgeons, and leading industry physicians and medical aesthetics experts

Train on multiple, industry-leading technologies

Luxury, retail medical spa training center

Staffed with a specific team of 20 customer service/marketing agents

Medical advisory board with over 100 years of combined experience

Business development/marketing seminar

Featured in the top national health and beauty publications

Industry pioneer for education in Laser, Botox, and Filler training
Does that make you excited to get radio frequency skin tightening training? Keep reading to find out what our students have to say about their experience!
"My experience at National Laser Institute was exceptional! I feel that all the staff truly loved what they were teaching, and were extremely knowledgeable in the field.  Less than a month after I graduated from NLI I received two job offers! I have no doubt that the National Laser Institute paved the way for a lifelong career in medical aesthetics for me."
Paige Wright
"NLI is the way to go! I attended the 14-day comprehensive course at National Laser Institute in Dallas, Texas. The first week we learned anatomy, skin types, laser technology, safety hazards, and how all this coincide with each other. The remaining of the days we went straight into clinical and was supervised while taking patients. We did hair removal, tattoo removal, fractional, skin rejuvenation, and body contouring amongst other services while using a variety of top of the line lasers that are currently used on the market today. The team in Dallas, Texas was amazing from instructors to the founder Louis Silberman. If there were any concerns, requests, or just more time needed to understand a procedure they were there to find a solution. NLI is the way to go!"
Sheena
Where can you work as a laser technician?
Once you have gone through our programs and gotten training in areas such as radio frequency skin tightening training and photofacials you'll be ready to go out into the real world and get a job. So where do you work as a laser technician? You can work in a variety of settings! Here are a few:
Tattoo Shops
If you're looking to specialize in laser tattoo removal you could end up working in the exciting environment of a tattoo shop! You'll work one on one with clients and see the powerful positive effect that removing a tattoo can have on clients. 
Physicians' offices
These days it is now possible to get all kinds of treatments at your normal primary physician. Many physicians, obstetricians, and OB/GYNs are adding all types of medical aesthetic services to their practice. Due to the fact that these services are not covered by insurance, there is no hassle regarding the treatment and many physicians make good money by offering these services. 
Day spas and beauty salons
While day spas typically focus on relaxation and rejuvenation, they have recognized the need to add these services to deliver more dramatic results. Some businesses have brought in a physician or nurse to provide cosmetic procedures to their clients who might already get laser hair reduction and Botox elsewhere. This is the perfect place to work if you want to be in a beautiful and relaxing environment while you make people look and feel their best.
As well as…
Niche boutiques
Small businesses focusing on only one type of treatment can decrease overhead costs while providing excellent service. Niche boutiques have become popular for procedures like laser hair and tattoo removal. While these cosmetic treatments typically require multiple sessions to be effective, this can turn new clients into repeat customers. This is the perfect place to work if you are looking for a smaller, more intimate environment with a lot of repeat clients.
Fitness centers
Recently, some national fitness chains have begun to offer cosmetic laser treatments as part of their in-house spa amenities. Fitness centers are capitalizing on their current member base and expanding to non-members to provide a one-stop-shop. This is a great place to work if you want to be around clients who are healthy and fit individuals who want to optimize how their body looks and feels.
Want to start a new career?
If this is a career that you keep considering in the back of your mind then please don't wait any longer! Take the leap and come to the National Laser Institute to get radio skin frequency tightening training among many other exciting treatments! Give us a call today and start learning radio frequency skin tightening training now!
During our Online Comprehensive Laser Course, you will receive online classroom laser training. This includes training with a variety of instructors and live demonstrations. Then choose one of our nationwide locations to attend your clinicals for hands-on learning!
Modalities include Laser Hair Removal, Photofacial, and Laser Skin Rejuvenation. As well as Radiofrequency Skin Rejuvenation, Coolsculpting, and Cellulite Reduction.
If you're ready to get started in the medical aesthetic industry then give us a call at 855-637-4530 to talk with one of our admission representatives. They'll answer all your questions and guide you through the whole process.