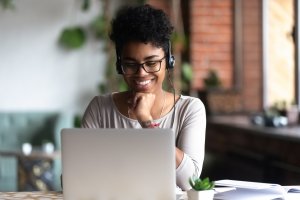 Are you someone who is looking for a career change? Maybe you are an esthetician who is looking to add cosmetic laser treatments to your skillset? Here at the National Laser Institute, we offer online cosmetic courses that include an in-person section as well. If you are looking to get training to become a laser technician and you are interested in completing at least part of it online, then keep reading to learn more about our programs!
Our Hybrid* Online Comprehensive Course
Our brand new online cosmetic courses in laser cosmetic is a cutting edge program! Now you can have the same amazing training you would get in our in-person program in the comfort of your home. The hybrid* program is half online and half in person. You'll take the classroom/lecture portion of your training online. Then you'll do in-person training later on in order to get hands-on practice with treating clients. You'll treat real, paying clients with treatments such as Laser Hair Removal, Photofacial, and Laser Skin Rejuvenation. We also have an option to take the course completely online if that works better for you!
Part One
In part one of our online cosmetic courses you'll learn about:
Treating different skin conditions and types

Evaluating skin types using the Fitzpatrick scale

Skin physiology and tissue interactions

Laser Physics

Laser Safety

Indications and contraindications

How to perform the consultation process

Laser settings and functionalities

These classroom lectures will also prepare you for hands-on clinical training
These online cosmetic courses are live and interactive! You'll be learning from our expert instructors who have years of experience in this industry. During this portion of the course, you'll get a comprehensive overview of how cosmetic lasers work and all the knowledge you need about the latest cosmetic laser techniques.
Part two
In part two of our online cosmetic courses, you'll get in-person training in a medical spa environment at one of our nationwide locations. This is your time to learn all about what goes into treating clients one on one. You'll be treating real, paying clients so that when you go out into the real world to get a job you'll feel confident in your abilities. During this training, you will also complete your Laser Safety Officer training. With our small class sizes, hands-on training, and dedicated instructors you can guarantee that you'll be receiving the most comprehensive training out there when it comes to laser cosmetics.
At the end of the online cosmetic courses you'll be able to:
Recognize the unique characteristics of a cosmetic client

Understand the fundamentals of how a laser interacts with skin tissue

Explain how different types of light-based devices interact with the skin in nonsurgical procedures

Identify safety issues and complications as well as recognize contraindications for various cosmetic laser treatments

Determine which types of laser treatments will create the desired results for your clients

Understand the hazards associated with cosmetic lasers and how to avoid them

Demonstrate proper technique and safe operation of laser and pulsed light devices

Explain the benefits, expectations, and results associated with several laser devices
Our School
Here at the National Laser Institute, we offer hands-on training with real, paying clients. This isn't something that is available at every school.  Here are a few other things that make our program stand out:
Classes lead by dermatologists, cosmetic surgeons, and leading industry physicians and medical aesthetics experts

Train on multiple, industry-leading technologies

Luxury, retail medical spa training center

Staffed with a specific team of 20 customer service/marketing agents

Medical advisory board with over 100 years of combined experience

Business development/marketing seminar

Featured in the top national health and beauty publications

Industry pioneer for education in Laser, Botox, and Filler training for medical professionals
Testimonials
Take a look at this amazing testimonial from one of our students! This could be you!
"I'm living the dream! I wanted it, I did it, I loved it! I just completed the Comprehensive Laser Course at NLI in Scottsdale Arizona and I am so excited! The course far exceeded my expectations in every way. I already knew that I would be attending the most respected school in the industry, but after completing the course I now know why National Laser Institute has that reputation. The reason is Louis Silberman! Everything about Louis is first class. Everything from his catered Skin Scene Events, to the equipment the students and staff have access to, to the exceptional staff he employs. From the moment you meet Louis, you are inspired by his energy and outgoing personality. He is genuine and cares about every student. His standards are extremely high and his instructors are a reflection of that. They are the absolute best!"
Zellie O.
"I had the most amazing time at National Laser Institute. The instructors were amazing–nothing less than phenomenal. I never thought I could learn so much and be comfortable firing a laser in such a short amount of time. I cannot wait to return to Dallas just to visit all the girls. This was the greatest experience for myself and greatest choice for my career! Everyone was just so helpful and encouraging. It was a lot of great information, and I came home feeling extremely accomplished. If there are any more classes I can take from National Laser Institute, I definitely will be signing up!"
Kristen Marino
Your New Career is Calling You
If this is a career that you feel excited about then give us a call to get started in this amazing industry! You truly won't regret it!
During our Hybrid* Online Comprehensive Laser Course you will receive online classroom laser training with a variety of instructors and live demonstrations with several hours on each modality. Then choose one of our nationwide locations to attend your clinicals for hands-on learning!
Modalities include Laser Hair Removal, Photofacial, Laser Skin Rejuvenation, Radiofrequency Skin Rejuvenation, Coolsculpting, Cellulite Reduction, Tattoo Removal, Radiofrequency Skin Tightening, and Microneedling.
If you're ready to get started in the medical aesthetic industry then give us a call at 855-637-4530 to talk with one of our admission representatives. They'll answer all your questions and guide you through the whole process.