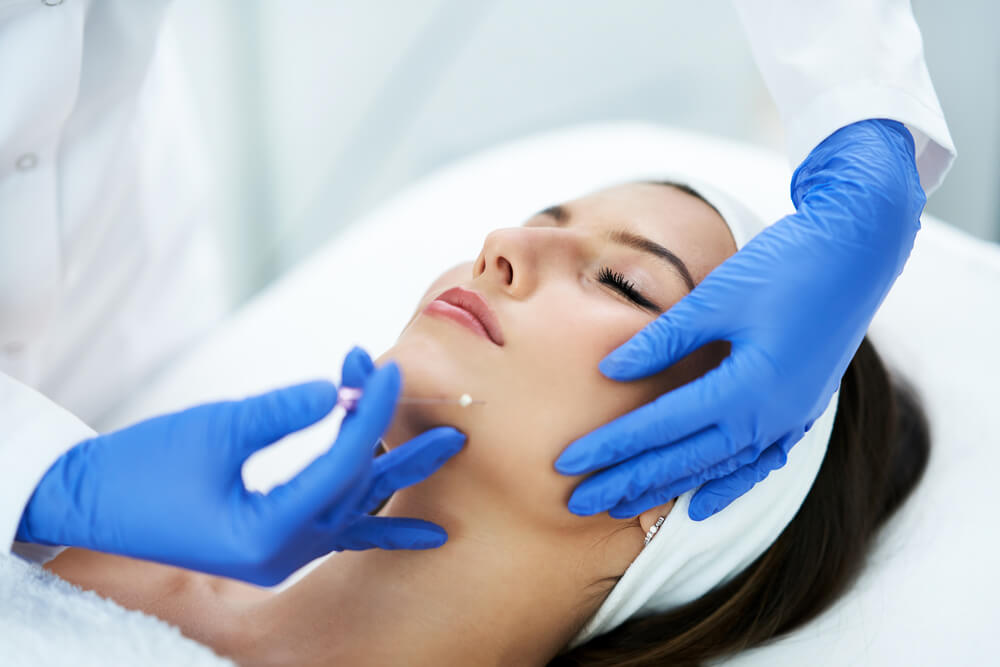 When considering if a facelift is right for you, there are many questions to ask. Furthermore, with the development and FDA approval of new technology, there are even more options for face lifts. PDO  threads services have recently entered into the cosmetology world as an alternative to traditional lifts. Known as the "lunchtime lift," PDO threads services are popular for being less invasive, less expensive, and less time-intensive than other lift procedures. 
Uses for PDO Threads:
PDO threads are appropriate for any kind of lift. They are especially useful around the face, neck and jawline. PDO threads are equally effective for butt lifts, arm lifts, breast lifts and thigh lifts.  Unlike traditional cosmetic surgery, PDO thread procedures are non-surgical injections that require only local anesthesia for the treatment. 
How Do PDO Thread Treatments Work?
For PDO thread treatments, PDO threads are injected into the subdermal layer of skin. The PDO threads attach to the skin and stimulate collagen production. The procedure takes less than thirty minutes. Over the next four to six months, the PDO threads naturally dissolve, eliminating the need for any additional treatment. In the meantime, additional collagen production revs up. Because of the increased collagen production, the skin appears rejuvenated, lifted, brighter, and has fewer wrinkles. The benefits of the PDO thread injections last up to a year and six months. 
What are the Benefits of PDO Threads Services?
With no required surgery, PDO thread injections are non-invasive and non-permanent! As only local anesthesia is used, clients even drive home following procedures! The recovery time for PDO thread treatments is minimal: there could be some swelling during the first week but there is no scarring or skin blemishes and no permanent effects of the treatment. PDO thread injections transform your look immediately using PDO threads and your body's natural response. The PDO threads stimulate collagen production which has many lasting effects:
Skin rejuvenation

Skin lifting

Brightened skin tone

Instant and lasting increase in volume 

Fewer wrinkles for 12 to 18 months
What are the differences between PDO Thread Treatments and Traditional Facelifts? 
Traditional facelifts are becoming less popular because PDO thread treatments are cheaper, less invasive and give great results. Traditional facelifts typically require general anesthesia, whereas PDO thread procedures only require local anesthesia. Many of the effects of PDO thread injections are immediate. Within three months post procedure, the maximum effect will be visible. The effects will last over a year after the PDO threads dissolve, giving up to two years of visible effect from one PDO threads treatment. A traditional facelift is more permanent, with its effects lasting up to five to ten years. Because traditional facelifts require surgery, the risk of complications are much higher. As with all surgical operations, there is risk of bleeding, bruising, skin necrosis, scarring, complications with general anesthesia and others. PDO thread procedures are safe from these surgical complications. 
Who should get a PDO thread lift? 
If you are trying to determine if a PDO thread lift is right for you, there are several conditions to consider. An ideal candidate for a PDO thread procedure would have normal skin thickness, loss of facial volume and/or structure, sagging skin below the chin or jawline, drooping or sagging brows or cheeks or any other signs of premature aging. PDO thread treatments are great options for people who wish to give their appearance a boost without the negative side effects of invasive surgery. Also, PDO thread treatments are also cheaper than normal surgical lifts and have no chance for scarring or permanent blemishes. PDO thread treatments are most often used for the face, especially cheeks, chin and neck. However, PDO thread injections can be used nearly anywhere on the body, including for a tummy lift or to remove crows feet or smile lines.  
PDO thread treatments can also be combined with other treatments for maximum results. Common combined treatments include Botox, injectable dermal fillers, IPL, coolsculpting and PRP to achieve your desired look.
Ready to Book PDO Threads Services? 
PDO threads procedures are effective, safe and efficient. If you are ready to bring life and youthfulness back into your look with a PDO threads treatment, call today for your free consultation. 
You can call National Laser Institute directly at 480-290-7399 or chat live with one of our knowledgeable advisors.
During our CME Hybrid* Online Cosmetic Injections Course you will receive online classroom and demonstrations on:
– Botox
– Dermal fillers
– Off label Botox and fillers
– PRP
– Sclerotherapy
– Kybella
– PDO threads
Then choose one of our nationwide locations to attend your clinicals for hands-on learning!