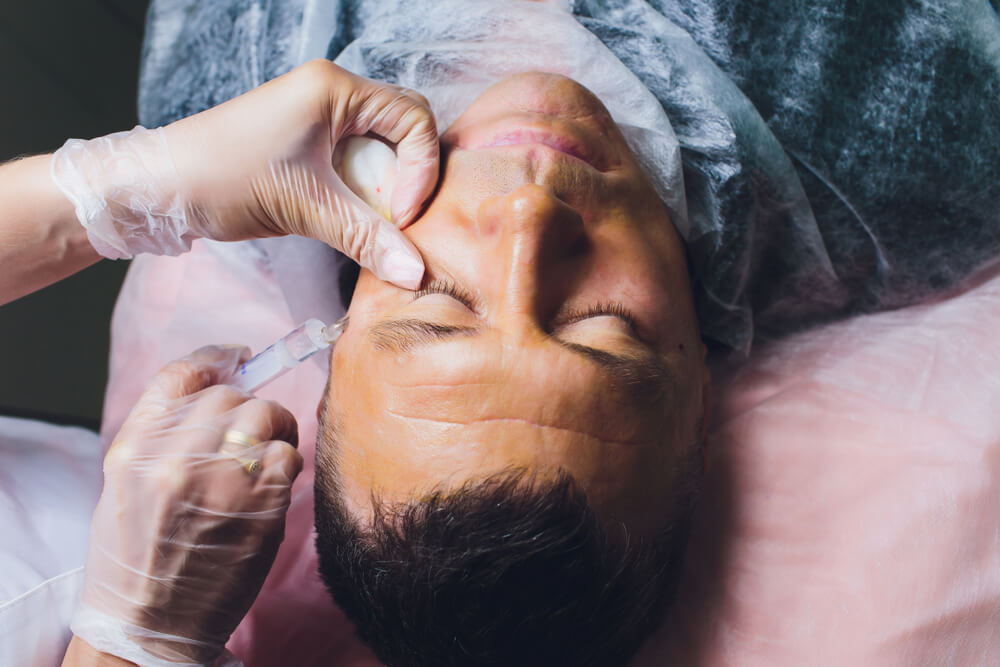 More and more clients are seeking to move away from the traditional surgical facelifts in exchange for less invasive and less expensive procedures. One such alternative is PDO threads treatments.
What are PDO Threads? 
PDO threads are fibers made of absorbable polymers that stimulate the production of collagen.
In PDO thread treatments, PDO threads are injected into the subdermal layer of the skin, immediately tightening and lifting the skin. The PDO threads dissolve over the next four to six months, while collagen production leaves skin looking fuller, brighter, and rejuvenated. 
How can PDO Threads Be Used?
One of the great advantages of PDO thread injections is its versatility. PDO thread injections are most popular around the face, especially the cheeks, chin and neck. However, PDO thread services can include tummy lifts, chin lifts, cheek fillers, and removal of crows feet, and smile lines. PDO thread treatments can also be used in conjunction with other services, like Botox and dermal filler injections.
What Are the Differences Between PDO Threads Treatments and Traditional Facelifts?
The most substantial difference between PDO thread treatments and traditional facelifts is that PDO thread injections are non-surgical procedures. PDO thread facelifts take less than an hour, whereas traditional facelifts can last up to five hours in surgery. PDO thread injections are not permanent, and although its effects are immediate, the visible effects fade after a year to eighteen months. Traditional facelifts last longer, up to five to ten years, but their effects eventually fade, too. Most PDO thread injection procedures take thirty minutes or less, whereas traditional facelift surgery takes two to five hours. This is a great advantage for clients because of the ease and shortness of the PDO thread procedures. It's also a big advantage to scheduling: instead of two traditional facelifts a day, you can book two PDO threads facelifts an hour!
Benefits to Clients of PDO Threads Treatments:
PDO thread injections are valuable to clients for several reasons. Because PDO thread procedures are non-surgical, only local anesthetic is necessary, giving clients more freedom in making and attending appointments. The recovery for PDO thread procedures is extremely minimal. PDO thread injections leave no scarring or permanent blemishes, and sutures naturally dissolve after four to six months, eliminating the need for a secondary procedure.
As with any surgery, there are risks to a traditional facelift, including bleeding, bruising, infection, scarring, numbness and skin necrosis. With PDO thread injections, clients are happy that there is no risk from these surgical complications. PDO thread treatments offer safe, non-surgical and affordable options for clients. 
We Have the Right Course for PDO Threads Treatments!
If you are ready to be certified in PDO thread treatments, here at the National Laser Institute we offer a course designed specifically to give you a whole new set of services for your clients. The 2-day course combines classroom sessions and hands-on training from our professional staff and experience working on scheduled clients. Didactic lessons include the history of PDO thread treatments, indications for use, including client selection, prevention and management of complications and comprehensive demonstrations. The course includes the opportunity to work with real clients, to best prepare you for your own! National Laser Institute is the only medical aesthetics school in the country that spends millions of dollars on finding and booking models for you!
Contact Us!
To learn more information about our PDO thread lift course or medical aesthetics courses at National Laser Institute, fill out the form on the right or call 1-800-982-6817 to speak with an Admissions Advisor.
During our CE/CME Online Cosmetic Injections Course you will receive online classroom and demonstrations on:
– Botox
– Dermal fillers
– Off label Botox and fillers
– PRP
– Sclerotherapy
– Kybella
– PDO threads
Then choose one of our nationwide locations to attend your clinicals for hands-on learning!