Radiofrequency Skin Rejuvenation E-courses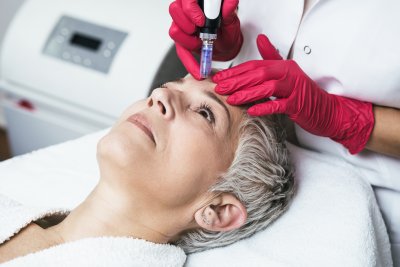 We couldn't help but notice that you're searching for radiofrequency skin rejuvenation E-courses online. We're not trying to be creepers, but we're interested in your inquiry and want to help.
But first…
Can we take a moment to be honest? Let's be perfectly frank. You're not likely going anywhere anytime soon. In light of recent (ahem, viral) events, many of us are practically adhered to our sofas. In fact, it's a good idea to keep seam rippers at the ready in case we get all too comfortable in the indentation we've made in the cushions.
Admittedly, we sure aren't getting much further than our front porches these days. As we accept our obligation to be socially responsible, behind masks and inside our own bubbles, we feel pulled further and further away from our old lives and a society we once knew.
This is a strange time in our country as it is in the rest of the world. And it would be easy to slip into full blown gloom and loneliness (wow, this blog is turning into a bummer…) but abstain if you can.
Use this (ill-gotten) time to your advantage!
So, we're not saying there's a sunny side to a global pandemic. Because there isn't. Covid-19 is the worst and we hate it as much as you do. We agree, it sucks, big time. However, there's nothing wrong with trying to see some light at the end of the tunnel.
Take advantage of this unexpected spare time that tries to echo like a black-mouthed void. No, you can't go to parties. You shouldn't hang out with big groups of friends. Concerts and fairs and speaking events have been canceled. But all is not lost.
Don't mope anymore. Be proactive instead. Turn off your TV and flip on your laptop. Sit under a tree and let yourself look forward into the days ahead. Like you did today, research "radiofrequency skin rejuvenation e-courses" and daydream about the future you can have.
A future in medical aesthetics awaits!
Make your daydream a reality…
Don't let any more time slip by you without making a change in your life. As we mentioned before, you're stuck at home with reality TV and too many snack cakes in the pantry. Instead of giving in to the temptations induced by boredom (and, let's admit it, a little bit of despair) use this time to make a positive change in your life.
Stop researching radiofrequency skin rejuvenation e-courses and sign up for one for goodness sake!
We aren't trying to sound like your mother or anything but come on already! No one can take the step but you!
If you let this time pass without doing anything more than eating chocolate and rewatching episodes of Real Housewives, you will regret the days (and opportunity) that you squandered.
We promise.
Now that we've pep talked (nagged) you into it, we'll even show you the path to radiofrequency skin rejuvenation e-courses:
For starters, do your research. You don't want to attend just any program. If you're going to do this. Do it right. Enroll in a great program.
At National Laser Institute, we offer just such a great program. You're probably wondering how we know we're great. Let us explain!
We know we're great for several reasons, including these:
Our awesome students say so in their
We pioneered the industry with cosmetic laser and injectables training courses over 17 years ago.
Our instructors (plastic surgeons, aesthetic nurses, certified laser technicians, dermatologists, etc.) are the best of the best in medical aesthetics.
Our comprehensive courses are quick (you can become a cosmetic laser tech in two weeks or less!) and incredibly thorough.
Last but not least, our founder and president, Louis Silberman, one of the leaders in the medical aesthetics marketing field, has been featured in Entrepreneur, Fortune Small Business, Les Nouvelle, Dermascope, and Skin Inc. This guy knows his stuff and prides his staff and instructors in being just as passionate about cosmetic lasers as he is.
We could go on and on about how awesome we are, but we'll spare you. Your research will certainly prove our point and we're sure that you'll determine we're the right institution to guide you toward a successful future in medical aesthetics. What can we say? Our mom gave us A LOT of confidence!
What career will radiofrequency skin rejuvenation e-courses lead to?
This is a fantastic question and we're thrilled you asked! Upon completing our coursework, you will earn your cosmetic laser technician certificate. The program (did we mention that it takes two weeks or less?!?) will ready you for a fulfilling career as a laser technician.
Cosmetic laser technicians with training from National Laser Institute are well versed in areas such as:
Laser Hair Reduction
Laser Tattoo Removal
Photofacial
Coolsculpting Body Contouring
Radiofrequency Treatments
Skin Rejuvenation
Skin Tightening
Cellulite Reduction
Microneedling
Plus, more!
Essentially, when you leave our course, you will be more than ready to join the field of medical aesthetics with all of the above listed skills. Additionally, you will have a broad knowledge of skin types, laser safety and operation and the skincare needs of particular clients in relation to laser treatments.
Even as you take the radiofrequency skin rejuvenation e-courses that you sought, you will be gaining a full skillset that will make you a marketable, knowledgeable technician!
Where do cosmetic laser technicians work? 
Undoubtedly, we love talking about this part because the answer is utterly fantastic.
Laser technicians' careers are blossoming everywhere medical aesthetic services are provided. In fact, laser techs works in health clubs, fitness centers, niche boutiques, salons, medical and day spas, doctors' offices and in laser clinics.
Performing the specialized treatments that only they know how to do best, they work in such environments (and more). On top of that, the places for work and job opportunities grow daily as does the burgeoning medical aesthetics industry!
At National Laser Institute, our work doesn't end until you find the right job for you. Our Graduate Services Departmenttakes a special interest in all of our students and strives find the best jobs with the brightest futures for our graduates.
Radiofrequency skin rejuvenation e-courses:
We've talked and talked. In fact, we nearly used a 1,000-words to get our message across. You wanted to know more about Radiofrequency skin rejuvenation e-courses, and we've answered in the most roundabout way possible.
Here's the summary: National Laser Institute, one of the nation's leading schools in medical aesthetics, offers the latest and greatest Radiofrequency skin rejuvenation e-courses in all the land. In two weeks or less you will leave our esteemed institution with a cosmetic laser technician certificate. Additionally, you will be readily capable of operating cosmetic lasers safely and effectively.
Our Comprehensive Hybrid* Online Laser Course (the RF course you searched for!) will provide you with a wealth of knowledge, a shiny, new skillset and a cosmetic laser certificate to boot.
Contact us today with questions or for more information at 480-290-7399.
We have no doubt that National Laser Institute is the next right step for you. If you need further convincing (and we are very convincing) call us and let us talk you into it.
During our Hybrid* Online Comprehensive Laser Course you will receive online classroom laser training with a variety of instructors and live demonstrations with several hours on each modality. Then choose one of our nationwide locations to attend your clinicals for hands-on learning!
Modalities include Laser Hair Removal, Photofacial, Laser Skin Rejuvenation, Radiofrequency Skin Rejuvenation, Coolsculpting, Cellulite Reduction, Tattoo Removal, Radiofrequency Skin Tightening, and Microneedling.