Laser Hair Removal Certification in Texas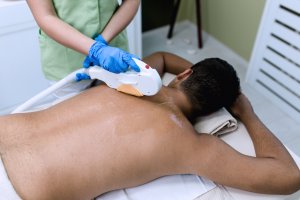 Are you stuck in a dead-end job that you hate? Have you secretly always want to work in beauty? Do you love being around other people? Get laser hair removal certification in Texas. The medical aesthetics industry is booming! Jobs as a laser technician are popping up constantly! Firstly, as a laser technician, you can perform cosmetic laser treatments on clients. Furthermore, you'll get to work one on one with people. No day will be the same, but every day will be fun!
What is a laser technician?
Firstly, what is a laser technician? A laser technician is someone who performs cosmetic laser treatments on clients. The issues can range from wrinkles to age spots. Some treatments can get rid of dark spots and some can even get rid of fat! Whatever issue your client has in regards to their skin you'll have something to treat it. Laser treatments get to the root of the issue and heal the skin on a deep level. You'll help clients regain their confidence as their skin improves. Our skin can affect how we feel about ourselves and what we decide to do in life. A boost in confidence can really change a person.
When you decide to get laser hair removal certification in Texas you are embarking on a lifelong journey in this exciting field. You will build strong client relationships and go on to work at a variety of places. You may end up opening your own business or specializing in one area. Whatever you choose, know that this industry is constantly evolving. The exciting thing is that means you will as well! As new technology comes in and new treatments are revealed, you'll be able to constantly offer your clients the best.
The Treatments
When you get laser hair removal certification in Texas you will learn a variety of treatments. Treatments such as:
Laser hair removal

Intense Pulsed Light (IPL) photofacial

Laser spider vein reduction

Laser acne treatments

CoolSculpting body contouring

Laser wrinkle reduction

Radiofrequency (RF) skin tightening

Laser skin tightening

Cellulite reduction

Laser tattoo removal
It may seem overwhelming now, but trust us, you will learn! Secondly, in the classroom part of your program you will also learn about:
Treating different skin conditions and types

Evaluating skin types using the Fitzpatrick scale

Skin physiology and tissue interactions

Laser Physics

Indications and contraindications

How to perform the consultation process

Laser settings and functionalities
How exciting is that? You will know the technology behind the lasers! On top of that, you will know how to be safe when using lasers. Cosmetic lasers are powerful tools and you want to handle them with care and the correct practices.
By the end of the program you will be able to:
Recognize the unique characteristics of a cosmetic client

Understand the fundamentals of how a laser interacts with skin tissue

Explain how different types of light-based devices interact with the skin in nonsurgical procedures

Identify safety issues and complications as well as recognize contraindications for various cosmetic laser treatments

Determine which types of laser treatments will create the desired results for your clients

Understand the hazards associated with cosmetic lasers and how to avoid them

Demonstrate proper technique and safe operation of laser and pulsed light devices

Explain the benefits, expectations, and results associated with several laser devices
Testimonials
Hopefully, the thought of all this is exciting to you! If it is, this career path is definitely for you! We know it can be scary to jump into a new field. However, don't let that fear keep you from moving forward. So many of our now graduates felt the same way before they started on their journey. Today, they are thriving!
As with any program you take, above all, you probably want to hear from the people who went through it. Thousands of people have graduated from our program. They've gone on to do amazing things. Here are a few of the thousands of testimonials we have on our site:
"I came to National Laser Institute after my mom attended and absolutely loved it! The knowledge, experience, and personal attention I received was wonderful. We are now both NLI grads and on our way to starting a career within a medspa! The fact that NLI will continue to be here for continued support through Graduate Services made my decision to attend a no-brainer. I can't wait to continue learning and sharing my success!"
AMY MCNEIL
"If you are reading this you must want a change in your life. National Laser Institute is a good career change in an industry that is continually growing. My experience with National Laser Institute was a positive life change for me. The curriculum is interesting and covers a wide spectrum of the history and use of various lasers. The course is taught by a variety of knowledgeable instructors that are available to every student. I made many good friends in the class and with the staff. I highly recommend National Laser Institute to anyone wanting a change in their life and becoming involved in a fun and rewarding industry."
CHERYL RAMSEY
Ready to pursue your dream?
Are you finally ready to start going after your dream instead of just talking about it? Call us now!
During our Hybrid* Online Comprehensive Laser Course, you will receive online classroom laser training. You will have a variety of instructors and live demonstrations with several hours on each modality. Then you can choose one of our nationwide locations to attend your clinicals for hands-on learning!
Modalities include Laser Hair Removal, Photofacial, Laser Skin Rejuvenation, Radiofrequency Skin Rejuvenation, Coolsculpting, Cellulite Reduction, Tattoo Removal, Radiofrequency Skin Tightening, and Microneedling.
If you're ready to get started in the medical aesthetic industry then give us a call at 855-637-4530 to talk with one of our admission representatives. They'll answer all your questions and guide you through the whole process.