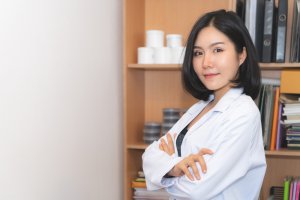 Have you ever wanted to reign supreme over a kingdom? Perhaps you've wanted to lord over an empire? Maybe you've even considered serving a brief stint as king or queen of a remote island. Well, serving in the medical director role in a medical spa is pretty similar to all of the above.
Of course there are a few exceptions. Like, generally speaking, employees don't particularly enjoy working for an absolute dictator. Also, the power is slightly lessened and more democratic in most cases.
Also…well…nevermind. Serving in the medical director role at a medical spa really isn't anything like a monarchy. Truth be told, in the medical director role you will probably just be treated like another, non-royal type person. To be honest, you'll likely be pretty similar to the rest of us plebeian suckers.
But (and this is a huge BUT) you will have a fantastic job in the wonderful world of medical aesthetics. And right now, with the field of medical aesthetics booming, that's certainly a job worth having!
Booming, you say?
Yes, we said booming. Though invasive cosmetic procedures (plastic surgery) are declining, their noninvasive counterparts are on the upslope! In fact, recent statistics tell us that noninvasive procedures such as Botox and dermal fillers have officially reached mainstream popularity.
According to the American Academy of Facial Plastic and Reconstructive Surgery's annual survey, four-fifths of all treatments performed by facial plastic surgeons in 2018 were cosmetic, non-surgical procedures.
And that's where you come in, doc. You don't need to be a plastic surgeon to cash in on this opportunity.  Serving in the medical director role of a med spa will put you front and center to earn bucks off of the flourishing medical aesthetics industry!
But what is the medical director role?
In a medical spa, a medical director oversees all things within the facility. Thereby making them the official stamp of approval (and disapproval) of all goings on within the clinic.
Board certified physicians serve in this role as general superintendents and supervisors (lord of the land? Maybe?). They ensure that the clinic or spa adheres to rules and regulations and maintains safety for clientele.
Physicians in the medical director role must remain cognizant of all state and federal laws. Just as if they were running a standard medical facility.
(Keep in mind that it is vital to check with state and local authorities before offering or overseeing any sort of services within the medical aesthetics industry).
Is there a need for medical directors?
The answer to this question is a simple: Absolutely!
Because spa-type services (especially services like injectables and laser treatments) are heavily regulated in most places, there is a great need for physicians eager to supervise. If a medical spa offers anything that falls into medical treatment of any form, a doctor must be available. No ifs, ands, or buts. As previously mentioned, state laws differ thereby making it incredibly important to check with the rules of where you live and work.
How about the money?
Of course this is important. I mean, we've all got to eat (and buy Ferraris).
You'll be pleased to know that the money serving in a medical director role in a medical spa is sweet. I'm some cases, it's better than sweet. A quick search of sites like SimplyHired shows countless calls for doctors looking to serve in such positions. One current job posting boasts a salary of $158,924 to $304,328 annually (we're pushing for you to get the upper end).
Positions similarly offer competitive benefits packages. Many of them advertise matching 401k plans, ample vacation days, freed holidays and occasional bonuses as well.
What else?
Jobs are available nationwide. As a medical spa director you can work in Las Vegas or in Maryland. You can find a career in the prairies of Kansas or in a chic boutique in NYC. The possibilities and offerings are endless!
Ready for certification?
This really is your lucky day because the internet gods have lead you to the right place in your search for "medical director role."
At National Laser Institute we have the tools to help you become a medical director of a medical spa.
We actually offer a comprehensive three-day course that will leave you fully equipped in order to become a Medical Spa Director!
In order to enroll you must have a medical degree as well as board certification. If all of that is in order, we will take it from there!
Contact us today at 480-290-7399! We can't wait to help you fulfill your potential and fill your pockets!
During our CME Hybrid* Online Cosmetic Injections Course you will receive online classroom and demonstrations on:
– Botox
– Dermal fillers
– Off label Botox and fillers
– PRP
– Sclerotherapy
– Kybella
– PDO threads
Then choose one of our nationwide locations to attend your clinicals for hands-on learning!