Photofacial Training Scottsdale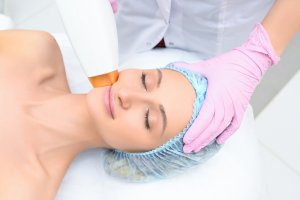 Looking for medical aesthetic training in Scottsdale? Come to NLI! We offer photofacial training in Scottsdale. Scottsdale is a sunny and fun city! There's no better place to get your medical aesthetic training. Enjoy the beautiful desert while you start a whole new career!
What is a Photofacial?
So what is a photofacial? Why should you get photofacial training in Scottsdale? During the IPL Photofacial procedure a cool gel is placed onto your skin. This is to protect your skin from the IPL device. The treatment consists of the IPL device applying light pulses onto your skin. Three to six treatments are needed in order to see full results. After receiving an IPL Photofacial a client experiences little to no downtime. The pigmented lesions (brown spots) that were targeted during the treatment will darken and then come off the skin within seven to fourteen days post-treatment.
Issues it targets:
Rosacea

Sun Damage

Broken Capillaries

Freckles
Prior to the procedure clients should avoid:
Waxing

Chemical peels

Aspirin and Ibuprofen

Tanning beds

Creams or other products that contain vitamin A, such as RetinA, or glycolic acid

Direct sunlight
IPL Photofacial Benefits
It is a quick and easy treatment

The treatment is painless

You can do it anywhere on your skin

Reduces or eliminates sun spots and freckles

Reduces the severity of acne

Tightens your pores

Reduces hyperpigmentation

Can reverse sun damage

Reduces the appearance of fine lines

Treats broken capillaries, blood vessels, telangiectasia, rosacea

Reduces the appearance of wrinkles

Tightens skin

Boosts collagen and elastin production
Why come to Scottsdale?
Why do photofacial training in Scottsdale? Scottsdale is a beautiful city in the heart of the desert. It is pretty much sunny year-round. The weather is beautiful from October until April every year. If you hate the heat you may want to hold off on coming to our school during the summer months. There is so much to do! Hikes and coffee shops. The Grand Canyon and Sedona can be enjoyed during a weekend or on a day trip. The people are friendly and inviting. Our students love the experience in Scottsdale and their time with our staff. Most people also make life-long friends! 
Why come to NLI?
Here at NLI, we have dedicated staff. Our admissions representatives guide you through the application process. Our instructors teach you everything you need to know to succeed in this field. It truly is a team effort to prepare you for this industry. We offer the best education on the market. Here are just a few things that make us stand out:
Over 20,000 graduates

17+ years in the business

#1 rated medical aesthetic training brand

Nationwide locations

500 jobs leads are sent to you post-graduation

Thousands of raving reviews from students
Ready to come to visit us?
Ready to take photofacial training in Scottsdale? Give us a call today and start the process. You'll be on your way to your future in no time!
During our Online Comprehensive Laser Course you will receive online classroom laser training with a variety of instructors and live demonstrations with several hours on each modality. Then choose one of our nationwide locations to attend your clinicals for hands-on learning!
Modalities include Laser Hair Removal, Photofacial, Laser Skin Rejuvenation, Radiofrequency Skin Rejuvenation, Coolsculpting, Cellulite Reduction, Tattoo Removal, Radiofrequency Skin Tightening, and Microneedling.
If you're ready to get started in the medical aesthetic industry then give us a call at 855-637-4530 to talk with one of our admission representatives. They'll answer all your questions and guide you through the whole process.